Have Fun Playing Guitar And Improving Your Academic Studies

Are You Looking For The Best Guitar Lessons For Your Son, Daughter or Grandchild?
I will be happy to show parents my Access NI Clearance. I teach from the approximate age of 11 years old onward.

At Larne Guitar School, your son, daughter, grandchild, niece or nephew will learn how to play the guitar in the right way from day one. Do you know that most guitar teachers do not even bother to get mentoring and coaching advice in how to teach people guitar in the best possible way? This is a sad truth. Just because someone is a good guitar player, doesn't mean that they know anything about teaching the instrument!
I promise you that this will not be the case with me. I will show your son or daughter how to learn the instrument properly, in a relaxed and fun environment. I will take them through a step by step process that will help them learn in a way that is not too difficult for them. If you want them to learn how to play the guitar, I will teach them.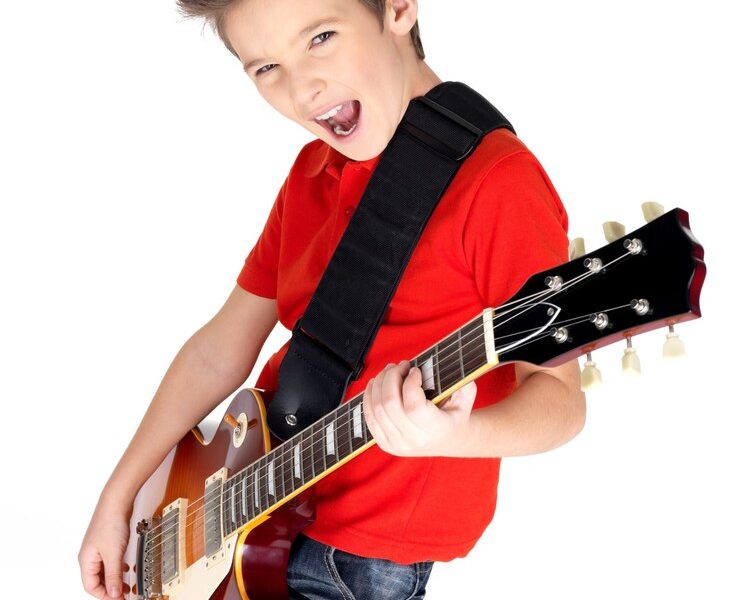 Many teachers will go ahead and show a young person very awkward things to play from day one that will hurt their fingers. This is a disaster! I will ensure that a young student has the best possible opportunity to have fun and progress on the guitar, without them feeling overwhelmed.
Here's What Lewis Has to Say About His Lessons
If you are looking for the best guitar lessons for teenagers in Larne, keep reading.
Many parents come to me telling me about the lessons their son or daughter has had in school. Time and time again, I hear that there was a new teacher every few weeks, or that they didn't even learn anything.
Sometimes, a well-meaning friend or relative might have shown them a few chords or tunes, but this is often quite damaging because they have no training in how to teach young people how to play guitar. This could lead to them thinking playing guitar is difficult and frustrating. I don't want this to happen! You need someone who does this every week, makes the process of learning fun and simple, and gets real results.

Here's What Rachel Has to Say About Her Lessons
Your son, daughter or grandchild can come to an environment where they will learn many skills that help them not only play guitar, but also assist and improve their academic studies. Imagine if they did this every week and it became a part of who they are! They would develop an excellent work ethic, improve their problem solving skills, become more independent, be creative, have lots of fun and make new friends too.
I take teaching younger students and teenagers very seriously and have researched and traveled aboard to find the very best way to do this. I've tested these methods with many young students from Larne and beyond, whilst keeping the lessons fun and motivating too. This means that your son or daughter can get the best information from day one and be part of an environment where they are expected to succeed because learning guitar in the right way is actually easy! You just need someone that does this every week. If a young person or teenager wants to learn guitar, I will help them.

Here's What Jolie Has to Say About Her Lessons
Here Are The Benefits They Will Receive

Improved listening skills so that they can focus better in school
Promotes their social skills so that they can make better friendships in the rest of their life
Teaches them perseverance 
Improved coordination so that they can improve other skills throughout their life 
Increased memory capacity so that they can perform better in their education

I have heard many people say things like this:
"You need natural talent"

"You need natural rhythm"

"We're not a very musical family"

"My son can't…"
None of this really matters. Learning guitar is one of the best skills to have. I see this every month with my young students and I'm always pleased and proud at how well they do.

Larne Guitar School is situated on Larne Main Street, with parking and local shopping nearby to suit the busy parent. Flexible lesson formats are available and you don't have to come to the same slot every week. We can find a schedule that suits your needs. I want us to get started right now in helping your son or daughter with something that will help them in so many ways for the rest of their life. Start by clicking the button below to book your FREE session right now.
 Start by clicking the button below

Or Call 028 9521 9353
(By Appointment Only)
PS – Have you booked your FREE session yet? I can help your son or daughter start having fun on the guitar in 30 minutes or less. Let's start today and send them home with a big smile.
PPS – Don't miss out on booking your place today. There are only a few places left as of 31/05/2022.
Larne Guitar School serves students looking for guitar lessons in County Antrim from Larne, Carrickfergus, Ballyclare, Ballynure, Ballymena, Newtownabbey, Whitehead, Whiteabbey, Templepatrick, Straid, Monkstown, Magheramorne, Jordanstown, Glengormley, Glenarm, Carnlough, Dunadry, Doagh, Islandmagee, Carnalbanagh, Ballycarry, Antrim and Belfast.